News

News
Ideogram Design unveils its new mobile site.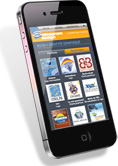 Our company unveils its mobile site today. Made for smartphones, this website will give visitors information about Ideogram Design and allow them to access our book.
Internet users are more and more going mobile. That is why we had to adapt our offer in web development to accompany the trends with the best technology has to offer.
We will from now on provide this option to our clients in order to extend their internet visibility.