News

Last creation / Valbonne, France.
Spring brings three new titles to the collection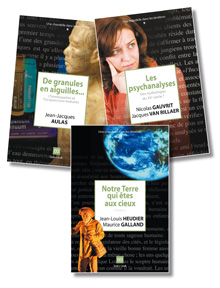 With three different themes: medicine, psychoanalysis, astronomy, book-e-book editions, assisted by Ideogram Design offers new thoughts to the reader ...
N°8 - "De granules en aiguilles - L'homéopathie et l'acupuncture évaluées" by Jean-Jacques Aulas.
N°9 - "Les psychanalyses - Des mythologies du XXe siècle ?" by Nicolas Gauvrit et Jacques Van Rillaer.
N°10 - "Notre Terre qui êtes aux cieux - Théâtre" by Jean-Louis Heudier et Maurice Galland.